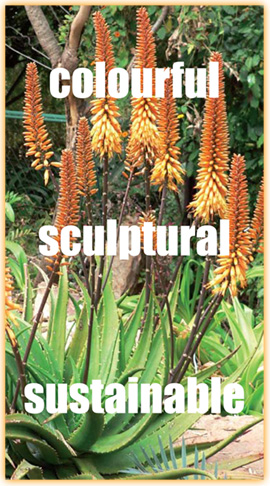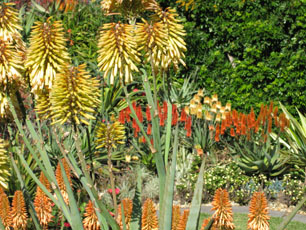 Welcome to Aloe-Aloe Horticulture!
Marketers and distributors of the premium collection of superior ornamental hybrid aloe.
"The toughest flowering garden and landscape plants for the dry and for the wet."
Graham Ross: Profile on Aloe Aloe


(Better Homes and Gardens 1 August 2014) 
Blooming in Brisbane
Season 3, Episode 3
Gardening Australia ABC
Aloe-Aloe superior hybrid aloe offer home gardeners and landscapers new and unique high performance sustainable gardening solutions with spectacular top quality flowers, dramatic foliage and trendy architectural shapes.
Proven hybrid vigour ensures plants which are:
1) COLOURFUL – Spectacular showy flowers in a diversity of colours and shapes from February to November.
2) SCULPTURAL – Striking bold and modern floral and architectural forms puts them in the horticultural spotlight as plants of the future.
3) SUSTAINABLE – Able to withstand the harsh Australian climate by storing water and food within swollen leaves and roots, easy to grow, resistant to disease and pests as well as being bird attracting.
With a complete range of premium dry-garden plants – from small and dainty flowering pot aloe, heavy flowering and strikingly foliaged home-garden aloe,to statuesque specimens of flowering tree aloe, there is a stunning hybrid to cover every garden and landscape situation.
For information on the hybridisation of aloes refer http://www.sunbirdaloes.co.za/aloe-hybrid-content/hybrids
For new information, photos and news on these tough perennials, shrubs and trees follow us on facebook by clicking

as this site is constantly updated with useful information on an ongoing basis. You are also able to comment and ask us questions on gardening with aloes, planting and other aspects on an ongoing basis.