Trade name: Super Red™
Botanical name: Aloe Hybrid 'LEO 3711"
Description: The flower performance of Super Red is truly spectacular as its flower season (masses of Red flowers) lasts from late summer to winter and it canproduce its first flower at a very young age. The grey-green plant starts growing a stem from an early age and the rosette divides when the plant is closer to maturity allowing an even greater flower display. Suitable as a feature plant in the garden, in a large pot or in tough landscaping conditions.


Forms thick trunk and branches at maturity forming a tree

Height (approx. excluding flowers)







Low but plant will benefit from water in very dry climate, particularly in summer.

Birds (insect eaters and nectar feeding), bees, butterflies

Resistant to pests and disease but need to watch for aphids during hot periods with no rain

Most soil types as long as free draining but rich soil preferred. If clay soils must raise plant so water drains away
Ability to cope with high rainfall



- Water during Summer
- Provide fertiliser/compost in Spring
- Remove old spent flowers (not necessary)
- Remove old leaves (not necessary)
There is limited availability of this rare aloe cultivar nationally
Please contact the Aloe-Aloe farm directly to source it at nursery@aloe-aloe.com.au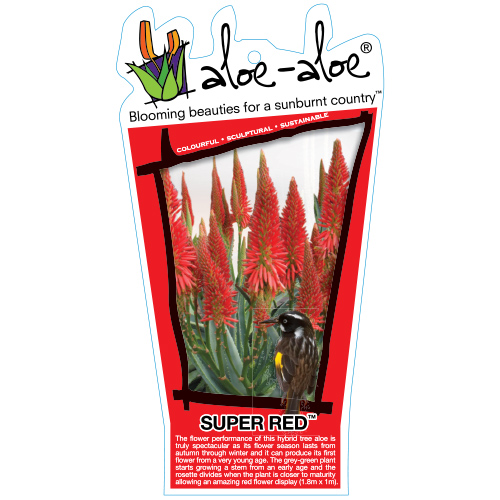 Legal notes:
The trademark Super Red™ is owned by Aloe-Aloe Horticulture Pty. 'Super Red™' is a trade name and not a cultivar name. The botanical and cultivar names of this plant are Aloe hybrid 'LEO 3711'